Teaching Proficiency through Reading and Storytelling using Comprehensible Input is a great instructional strategy in the second language classroom.  This engaging method of teaching a language can be used in both French Immersion and Core French classrooms at any grade level.  This resource provides stories and activities related to this method of instruction.  This resource includes basic stories with vocabulary and grammar structures embedded throughout in the target language.    
---

Using the world famous Total Physical Response (known world-wide as TPR), teaching method, Blaine Ray shows you step-by-step how to tell a story with physical actions. Next, your students tell the story to each other in their own words using the target language. They then act it out, write it and read it.  This method of  second language instruction is highly engaging and interactive. 
---

This resource is great for warmup activities in the TPRS classroom allowing students to practice their skills prior to digging deeper into the second language.  From day one, students understand everything they hear and read in their new language and are answering numerous questions about stories. Language acquisition expert Stephen Krashen says, "TPR Storytelling is much better than anything else out there."
---

Ben Slavic shows you step by step how to implement CI practices in your classroom right away at the start of the year. Educators say they saw a 75–80% increase in engagement, found it easy and enjoyable to immediately implement CI practices, and that the book has made teaching meaningful for them again. 
---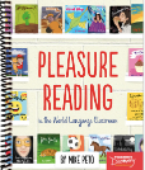 Do you want your students to expand their vocabularies and improve their grammar painlessly? Get them reading for pleasure in the target language! Learn the secrets of acquisition-focused Spanish teacher and longtime pleasure-reading enthusiast Mike Peto. Develop an extensive library of accessible and easy-to-read material, strategies to support your readers (especially the reluctant ones), and, most importantly, an unwavering focus on your true goal—connecting kids with the "home run" books that will make them love to read.